ASIAN FUSION

DINNER | WEEKEND BRUNCH


PATIO NOW OPEN


Located on the Ossington strip, Té is Asian fusion at it's best.
From the Spanish word for tea, Té offers Asian fusion share plates in the style of tapas. The food takes traditional Korean flavours and puts a creative spin on popular North American comfort foods. The house cocktails and desserts are tea inspired.
Share plates and entrées are available during dinner service, while brunch features classic breakfast foods, with a unique Asian twist.
OPEN 5 DAYS A WEEK. Our days off service are dedicated to making the foods that require a full day of preparation. We strive to provide you with the most authentic and wholesome experience when it comes to our Asian cuisine. This includes our kimchi, made from raw ingredients and fermented in house, as well as our toasted kimchi ravioli, individually handcrafted from start to finish.
PHONE
(647) 348-8009

LOCATION
70 Ossington Ave.
Toronto, ON
M6J 2Y7

HOURS
Dinner
Sun
3pm-10pm
Wed
5pm-10pm
Thu
5pm-11pm
Fri
5pm-12am
Sat
3pm-10pm
Brunch
Sat & Sun
11am-3pm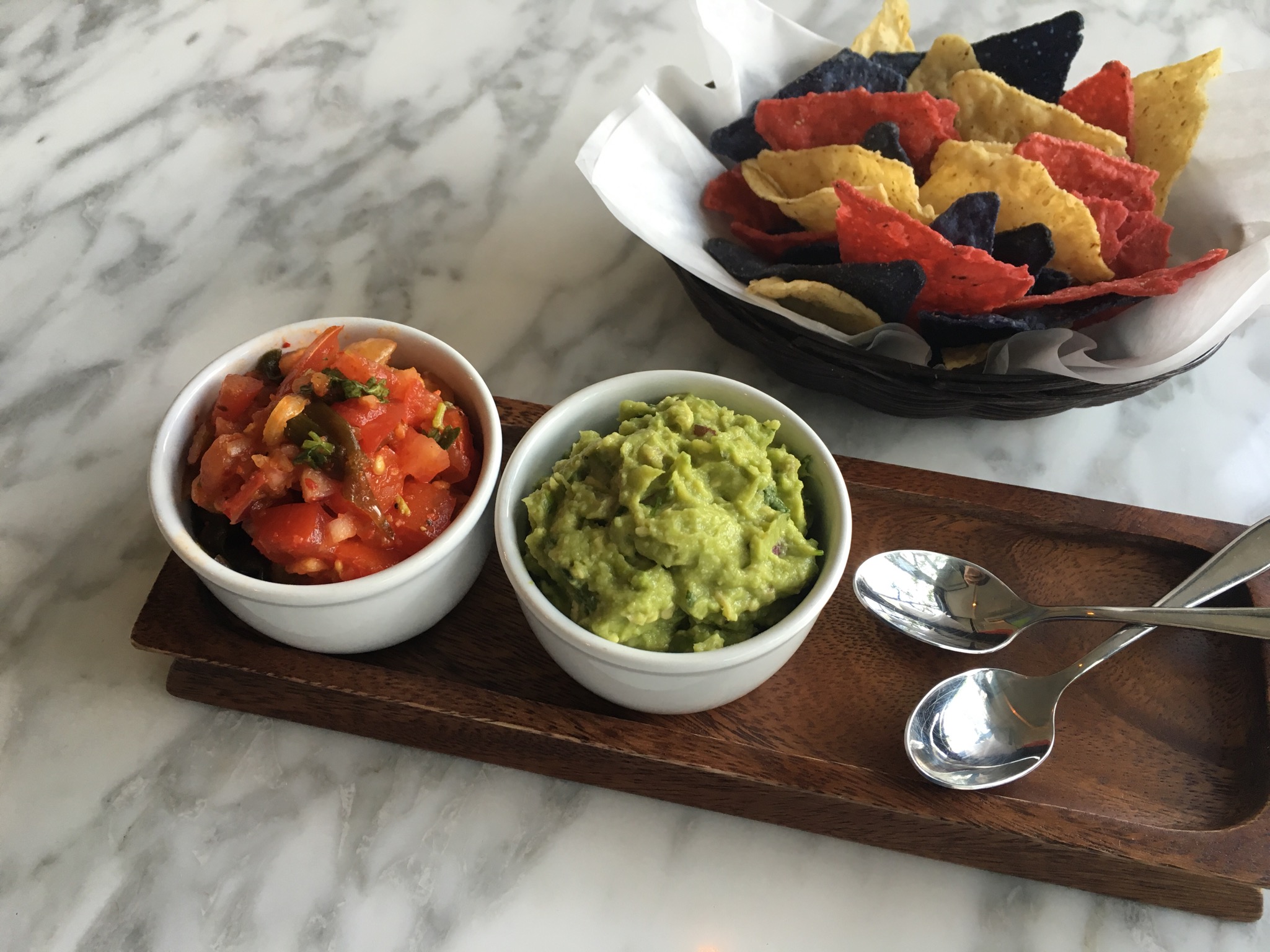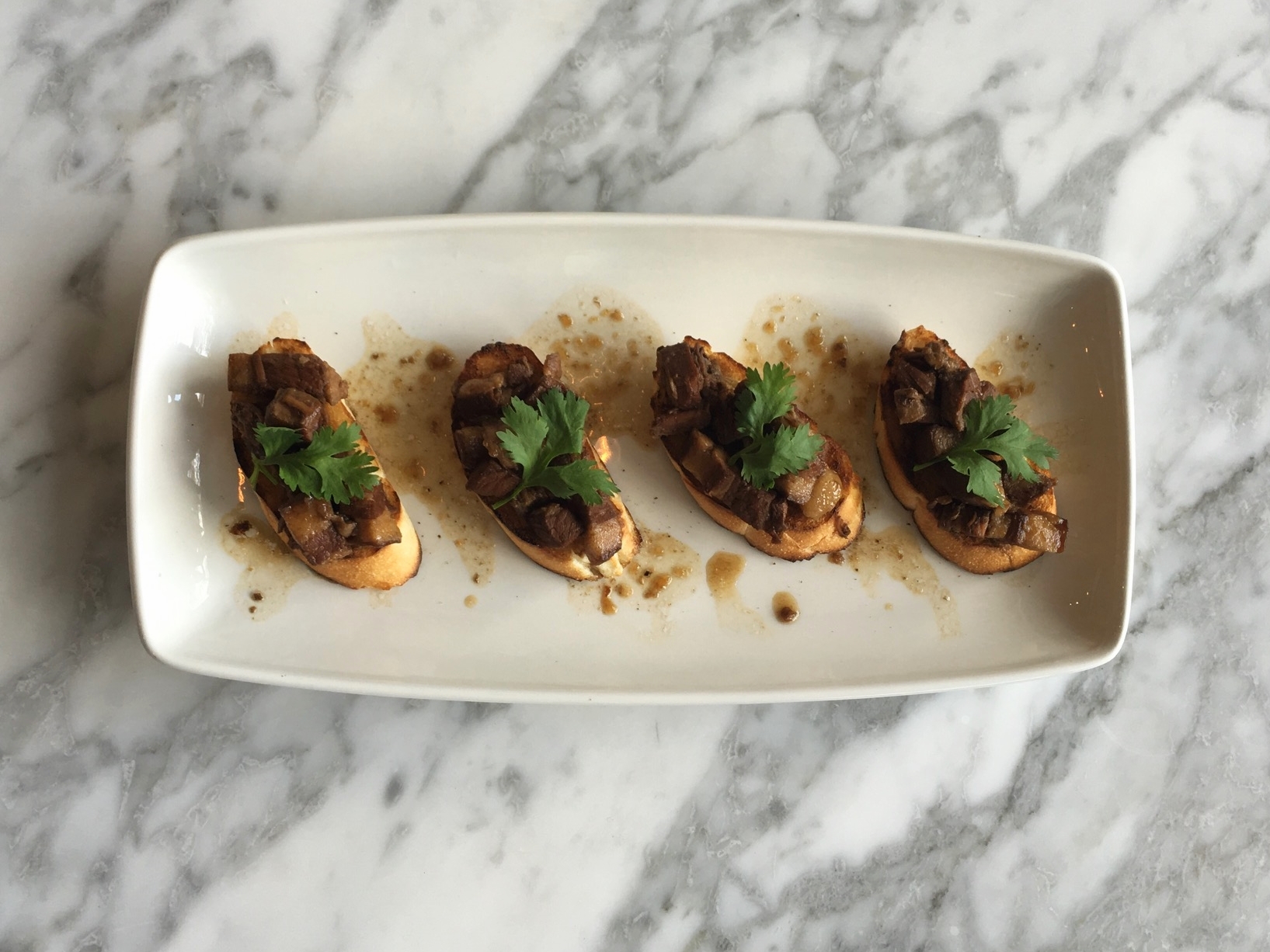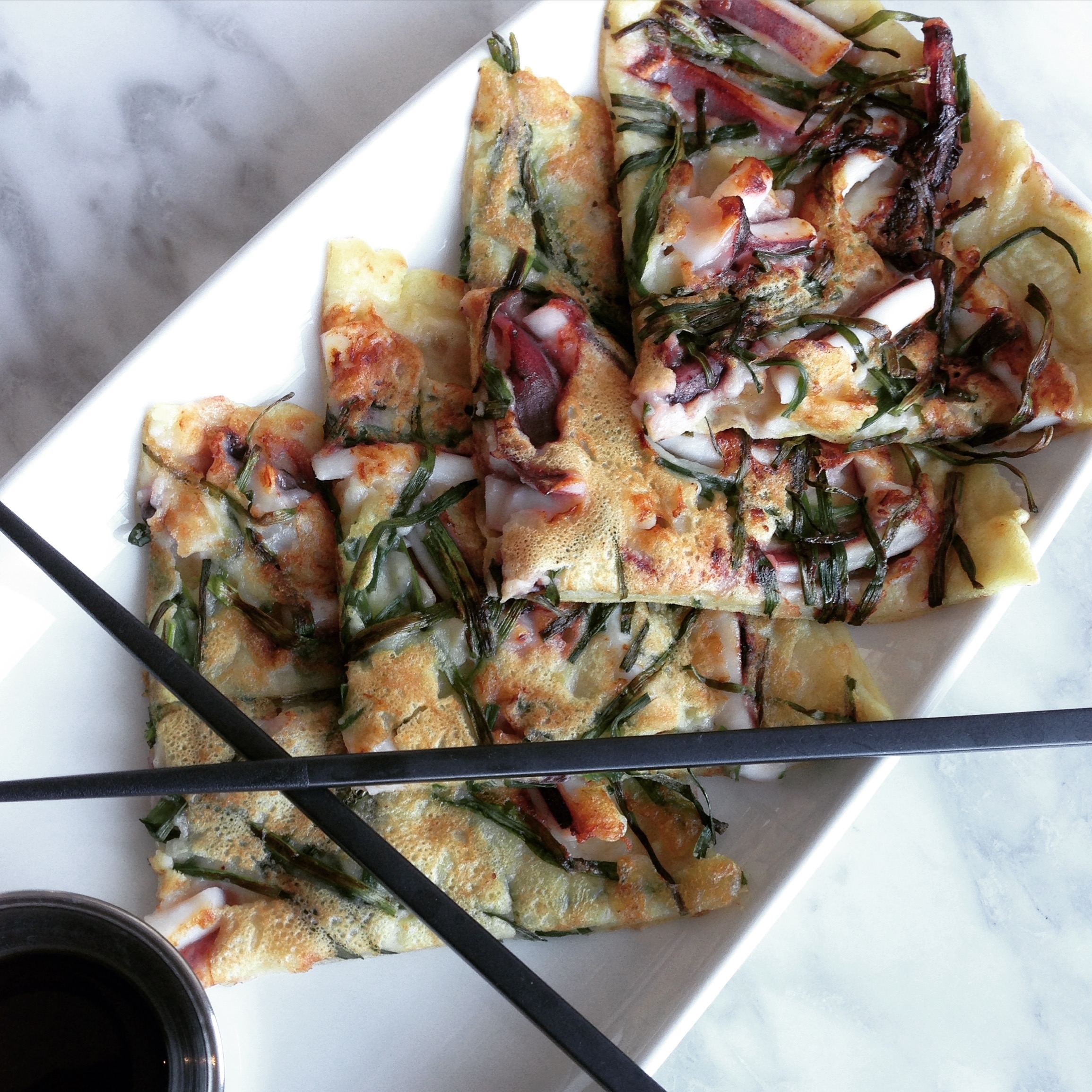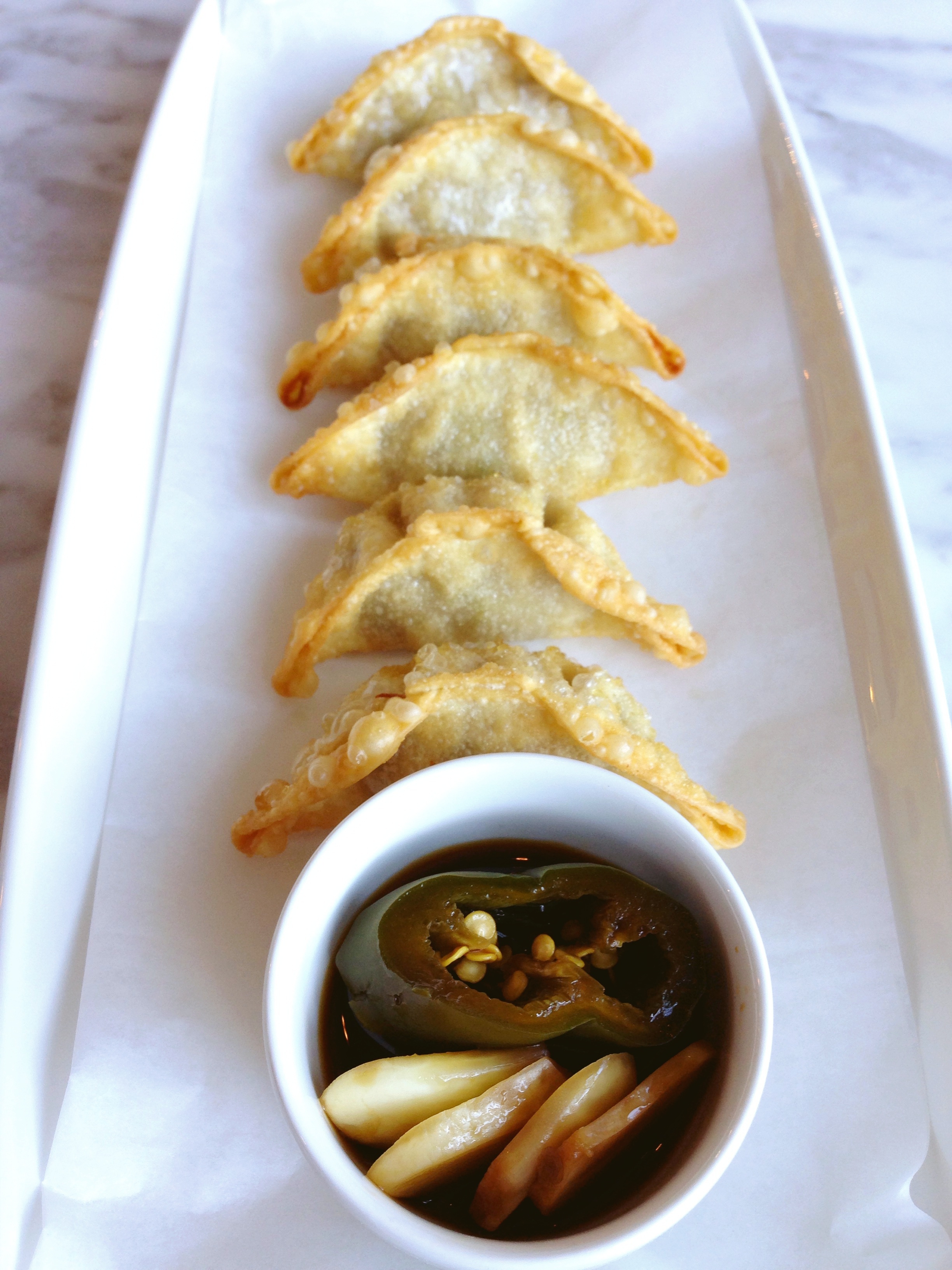 DINNER
W, Th, F, 5pm - close
Saturday & Sunday, 3pm - close
SHARE PLATES

COLD
KIMCHI DEVILLED EGGS 6
hard-boiled eggs redressed with a kimchi & sesame yolk mash. Topped with bacon
SALSA SET 7
fresh kimchi-spiked tomato salsa + guacamole. Served with tortilla chips

STOVE AND GRIDDLE
GARLIC EDAMAME AND CANDIED ANCHOVIES 7
edamame sautéed in garlic + side of sweet & salty caramelized mini anchovies
BULGOGI SLIDERS 13
thinly sliced sweet soy-marinated beef sirloin + quail egg, over easy + wasabi mayo on house-baked mini buns
BRAISED PORK CROSTINI 11
Taiwanese slow-cooked pork belly on toasted French baguette slices
SQUID CHŎN 10
pan-fried savoury pancake made with squid & chives. Served with a vinegar-soy dip
JAP CHAE 12
Korean-style glass noodle stir-fry with onion, carrot, bell pepper & sweet-soy marinated beef
PIZZA TTEOK•BOK•KI 10
Asian-style rice dough balls simmered in sweet chilli tomato sauce with sautéed garlic, onion, & bell pepper. Oven-baked with mozzarella
UNADULTERATED SSÄM 11
red lettuce leaf wraps with thin sliced sweet-pickled daikon, fresh garlic, sweet red chilli paste and
choice of ONE protein:
bulgogi - sweet soy-marinated beef sirloin
grilled pork belly - thick-cut, with pan-fried kimchi
sweet and spicy pork belly - thinly-sliced & chilli marinated
shiitake mushroom - sweet-soy & sesame marinated
FRIED
SWEET POTATO FRIES 7
plank-cut sweet potato fries with choice of house-made dip: wasabi mayo, sriracha mayo or honey Dijon aioli
DEEP FRIED DUMPLINGS 7
choice of beef or vegetable. Served with house-pickled jalapeño & garlic soy sauce
KIMCHI FALAFEL 10
kimchi-spiked falafel and hummus, drizzled with house-made tahini. Served with toasted naan wedges
TOASTED KIMCHI RAVIOLI 10
handmade jumbo ravioli squares with a kimchi-spiked ricotta, mozzarella & parmesan filling.
Panko-crusted & finished with honeyed wasabi pesto
CHICKEN WINGS
1/2 lb 9 / 1 lb 16
garlic & pepper spiced wings coated in seasoned flour + homemade taro chips.
Served with a trio of dipping sauces: Korean-style hot & honey, garlic soy & house hot
BRAISED BRISKET POUTINE 11
sweet soy-braised beef gravy on brisket, cheese curds & fries. Served with a side of sriracha mayo
ADD SUNNY EGG 1.25
DARK-SPICED TAIWANESE FRIED CHICKEN
Two 8 / Four 15
marinated in traditional Taiwanese spices, battered & fried, finished with pepper-salt seasoning
ENTRÉES
BI BIM BAP 14
prepared home-style with six varieties of cold marinated vegetables, bulgogi & over-easy egg on purple rice. Makes a warm dish when cold and hot elements are mixed together. Served with sweet red pepper sauce
BULGOGI MAC & CHEESE 15
homemade mac & cheese topped with garlic parmesan panko crust + sweet soy-marinated beef
KOREAN BBQ BURGER 16
griddle smashed 8 oz. sweet soy-marinated beef patty, cheddar, red leaf lettuce, tomato,
red onion & house-pickles on sesame bun. Served with fries or mixed greens
ADD BACON 2.5
ADD SUNNY EGG 1.25
GARLIC-SOY SHIITAKE MUSHROOM & SWISS 2
JAPANESE KATSU 14
choice of pork or eggplant panko cutlet served with purple rice, kimchi devilled egg,
sweet-pickled vegetables & Japanese katsu sauce
CURRY & KATSU 15
Japanese-style vegetarian curry on rice with choice of pork or eggplant panko cutlet
FISH & TARO CHIPS 17
tempura battered haddock fillet, homemade taro chips & kimchi slaw.
Served with a trio of house-made tartar sauces: original, kimchi-spiked & Japanese-style barbecue
BRAISED BEEF SHORT RIBS 34
16 oz. bone-in beef short ribs, pan-seared and oven-braised in a Korean-style sweet-soy marinade with
potatoes & carrots. Served with purple rice, kimchi slaw & cucumber kimchi
SPICY PORK BACK RIBS 21
sweet & spicy oven-braised pork back ribs, potatoes & carrots. Served with purple rice, kimchi slaw & cucumber kimchi
* 75¢ extra charge for additional orders of our house-made sauces
** Out of consideration for everyone: substitutions slow down orders, therefore dishes cannot be modified.
*** Please let a manager know if you have any food allergies as there are ingredients we use that may not be listed. Guests concerned with food allergies should be aware there may be a risk of cross-contact between foods as everything is prepared in a common kitchen.
**** Prices subject to change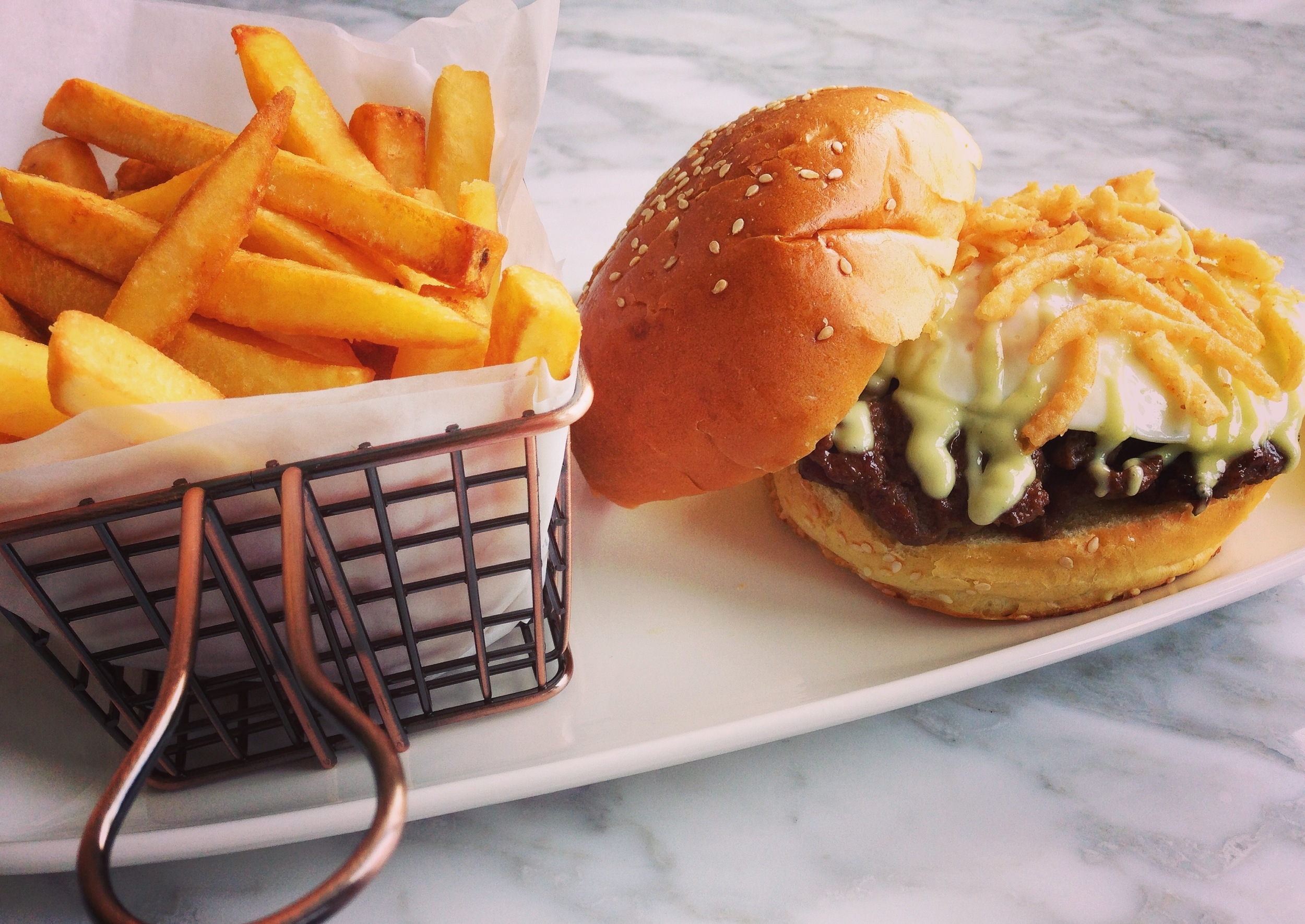 BRUNCH
Saturday & Sunday, 11am-3pm
ON THE PLATE
THE TRADITIONAL 13
two extra-large Canadian Grade A eggs any style + choice of bacon, sausage or avocado + pan-fried hashbrowns or mixed greens + white or whole wheat toast
KIMCHI AND PORK BELLY EGGS BENEDICT 14
toasted English muffin layered with pan-fried kimchi, grilled thick-cut pork belly and poached eggs bathed in house-made kimchi-spiked hollandaise + choice of hashbrowns or mixed greens
THE HUEVOS MASH-UP 16
smokey bacon and fried onion beans, fresh kimchi-spiked tomato salsa, guacamole & sour cream, topped with two eggs over-easy. Served with corn tortilla chips
DARK-SPICED TAIWANESE FRIED CHICKEN AND EGG WAFFLE 18
Asian twist on a comfort food classic:
chicken thigh and drumstick marinated in traditional Taiwanese spices, on top of a Hong Kong-style vanilla eggette waffles. Served with pure Quebec maple syrup
KIMCHI & BACON FRIED RICE OMELETTE 14
omelette wrapped around kimchi, bacon & onion fried rice + mozzarella. Served with choice of hashbrowns or mixed greens
STUFFED PANCAKES 15
Korean-style hand-rolled pancakes, stuffed with homemade brown butter banana walnut compote and griddle pressed. Served with choice of bacon, sausage or avocado slices
GREEN TEA EGG WAFFLE 15
matcha green tea eggette waffle, two eggs over easy and choice of bacon, sausage or avocado slices. Finished with a honey drizzle

BETWEEN THE BUNS
(served with choice of french fries or mixed greens. Add $2 for sweet potato fries and choice of house-made dip)
BULGOGI BURGER 16
thin slices of soy-marinated beef sirloin piled high on a toasted sesame seed bun, topped with a runny fried egg, crispy onion & house-made wasabi mayo
SPICY PORK GRILLED CHEESE 14
Korean-style sweet and spicy thin-sliced pork belly & fresh grated mozzarella pressed between slices of light rye
Top with a sunny egg (reminiscent of a Croque Madame) 1.25
EGG AND SAUSAGE TOAST 15
the ultimate breakfast sandwich inspired by Asian street-food vendors:
griddle-smashed beef patty made with Taiwanese spices, egg omelette with matchstick carrots, swiss cheese & sweet-pickled white cabbage and cucumber. Finished with ketchup and a house-made sweet mayo on challah

SIDES
BRAISED BRISKET POUTINE 11
(add $1.25 for sunny fried egg)
sweet soy-braised beef gravy smothered over brisket pieces, cheese curds & fries, served with a side of house-made sriracha mayo
PLANK-CUT SWEET POTATO FRIES 7
choice of house-made dips: sriracha mayo, wasabi mayo or honey Dijon aioli
BACON 2.5
SAUSAGE 2.5
PAN-FRIED HASHBROWNS WITH SOUR CREAM 6
PURE QUEBEC MAPLE SYRUP 1.5
SIDE GREENS 6
BRUNCH SPECIALS
MIMOSA 6
Villa Sandi prosecco + Tropicana orange juice
TÉ MIMOSA 8
Owl's Brew darjeeling & hibiscus tea blend + Villa Sandi prosecco + Tropicana orange juice
CAESAR 8
vodka + clamato + Tabasco + worcestershire + signature tea & sun-dried tomato salt rim
THE BLOODY ASSAM CAESAR 13
assam infused tequila + red wine + clamato + tabasco + worcestershire + signature tea & sun-dried tomato salt rim
* 75¢ extra charge for additional orders of our house-made sauces
** Out of consideration for everyone: substitutions slow down orders, therefore dishes cannot be modified.
*** Please let a manager know if you have any food allergies as there are ingredients we use that may not be listed. Guests concerned with food allergies should be aware there may be a risk of cross-contact between foods as everything is prepared in a common kitchen.
**** Prices subject to change
DESSERTS
all dessert items are homemade from scratch
GREEN TEA CHEESECAKE 6
matcha green tea cheesecake with graham cracker crust, baked in-house
BUTTERSCOTCH CARAMEL CHEESECAKE 6
butterscotch cheesecake topped with caramel drizzle & toffee bits, baked in-house
KEY LIME CHEESECAKE 6
fresh lime cheesecake topped with whip, baked in-house